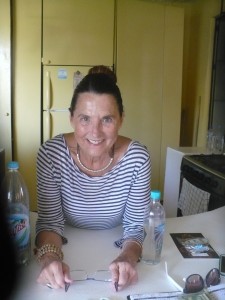 Welcome to "Words, words, words. . . ." Here I will be sharing stories, tips, tricks, prompts, and guidance for writers — all culled from my editing practice. You'll find support here, too,  because all writers need that.
And who am I to be guiding you? Here's a short bio less formal than the one on my main site. This one's purely from the heart.
My adventures with words began in my parents' kitchen. From her command post at the stove, my mother quoted poetry, reams of it from Shakespeare, Wordsworth, and Keats, while my father piped in with readings from Virgil, Longfellow, and "Casey at the Bat." During the same years I seriously studied ballet, finding childlike bliss in moving to music.
I began teaching writing as a graduate student at the University of Rochester where I earned M.A. and Ph. D. degrees in English literature and drama. Since then I have taught college courses in creative, critical, and other forms of writing, as well as the history, philosophy and criticism of dance and theater – most recently at the University of California, San Diego. But I discovered my own vocation as a writer when I began reviewing dance in 1976 for the Washington Star in the nation's capital.
A long career as an arts journalist took root and blossomed when I was named that newspaper's dance critic at the height of the heralded dance boom. When the Star met the fate of so many afternoon dailies, I moved in 1983 with my artist husband and our young sons to San Diego for a position as the dance critic, arts reporter and later, theater critic at the San Diego Union-Tribune. For 25 years, I communicated almost daily with readers, producing more than 6,000 reviews, features, profiles and think pieces. During this period I also free-lanced as an editor—initially for college textbook publishers in the humanities, including Addison-Wesley, Pearson, Longman, Macmillan, and Harcourt.
Soon I began work as a co-author of three college drama texts and, after leaving the Union-Tribune, I wrote a half-dozen books myself and many poems for young readers (Scholastic, Houghton Mifflin). It was then, too, that I "fell into Yoga." By tapping into that time tested wisdom, I not only became a happier, healthier person, but I saw how my writing had benefited from the meditative focus, the breath work, and the stillness I had learned on the Yoga mat. Out of this awareness I formulated a new and deeper approach to writing, teaching writing, coaching writers and editing books.
I offer students and clients a method of getting beyond the chattering ego to access their deeper creativity and discover a distinctive voice for each work. I bring that same alert awareness to my editing assignments, attuning my ear to the voice of the work as well as attending to all the pesky details that mark the difference between an amateur and a professional author.
Thanks to the generosity of my students, many of them writers and Yoga practitioners, I also teach Yoga classes and workshops in La Jolla, and lead Deep Yoga and Yoga for Writers retreats on the West Coast, central Mexico, Italy, France and other inspiring places.
I have been blessed by the presence in my life of hundreds of writing students and dozens of Book Doctor clients. Many of their testimonials can be found on the Projects pages of this site. Their stories—and their books—remind me of the miraculous diversity of human experience and the simultaneous knowing that we are all more alike than we are different. It's an honor and a pleasure to help others clarify their intentions, find their voices, and share their ideas and stories as they make the journey from aspiring writer to published author.
And there you have it— Anne Marie Welsh: writer, editor, coach, The Book Doctor. Hope to see you back here soon.