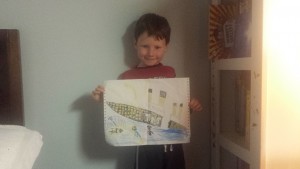 Sometimes a picture actually is worth a thousand words. But since words are my medium and "Words, words, words…" is the name of this blog, let me tell you a story about this little boy in Ireland.
When I left the newspaper business in 2008 for new adventures in writing and yoga, I took pretty much every opportunity that came my way to write for money. As the great critic Samuel Johnson said, "None but a blockhead. . . ." After all I had novels to write, and needed income to buy the time to write them.
Thanks to a dear friend, Robin Cruise in Seattle, I was offered a chance to work through her company, book packager becker&mayer!, on two historical books for young readers to be published by Scholastic. The pay was decent, the publisher is one of the best, and the subjects were interesting.
So I spent a winter researching and writing Heroes of the Titanic, a lavishly illustrated and uniquely sized account of the people, especially young people, who acted heroically as the great ship went down.
Heroes of the Titanic was published in 2012 on time for the 100th anniversary of the famous disaster. It led to a few speaking opportunities, several reading gigs in elementary schools and many letters from young readers whose parents had found me on the Internet.
Eventually I began hearing from disappointed parents or youngsters who were unable to buy the book online or in bookstores. Scholastic chose to make it available only at elementary school book fairs or to school libraries.
Requests continued to come in occasionally, but there was nothing to be done. I had five copies of my own and had given four away of those away—to libraries or teachers who brought me in to speak to their students about reading and writing.
Fast forward to last week.
A clever father in Dublin tracked me down and wrote, asking how he might be able to buy a copy of the book for his almost-seven-year old boy; the child had borrowed it three times from a local library, and he was not allowed to take it out again. Gerard Mullins had tried every means he could think of, and wondered whether I might have a solution. He attached the picture above of his son, Diarmuid. Who could resist that darling face?
And Gerard, an eloquent and wise man, also sent this photo of a drawing his boy had made (among many, I came to find out), of the famous ship, built in Belfast, just as its maiden voyage was ending in disaster.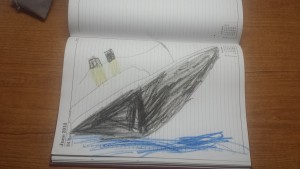 Gerard said the book had ignited his son's interest in history, and also inspired his creative side as he drew various pictures of the ship and the passengers whom he never tired of reading about.
I forwarded Gerard's emails and the photos to Betsy Pringle, my editor at becker&mayer! books. She was as entranced as I by the story and by that sweet Irish face. I said I'd send Diarmuid my last copy, which I did. And she said she'd find five more copies in a storage facility to replace mine. Which she did.
The book arrived in Dublin on Diarmuid's seventh birthday. And according to his father Gerard, the house grew quiet that night as a happy child read and reread the story to his little sister, Aisling.
The writer-reader bond is a special one, and sometimes, when you least expect it, even sacred. None more so than this one.