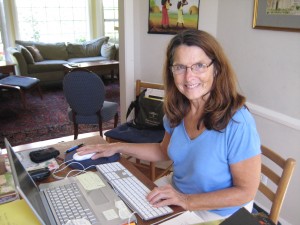 During my long career as an arts journalist and English professor, I developed the eye, ear and insight to help others find their voices, improve their writing, and complete their projects. In addition to editing book manuscripts, I've coached a remarkable array of writers, helping them clarify their ideas and intentions, and from there, create nonfiction book proposals or write, polish and publish their novels, memoirs, Ph.D. dissertations, handbooks, spiritual guides, anthologies, magazine articles and college textbooks.
One octogenarian lawyer-turned-novelist had given up on his thriller until we met, untangled the plot and he published his long-gestating book to good response, favorable publicity and healthy sales. Other memorable clients include:
an Algerian freedom-fighter customizing his memoir (a best-seller in French) for English-speaking readers;
a Holocaust survivor writing a now well-regarded book about his miraculous survival;
a business professor requiring tough editing before re-conceiving a Ph.D. dissertation in international business;
a psychotherapist working on various pamphlets, books, and essays;
a Yoga therapist whose two memoir-laced guide books were published in 2016;
a spiritual counselor who has now published a major work and six auxiliary books on creating deliberate happiness;
a photojournalist completing a social justice trio with a book on teenagers in detention;
a playwright stumped because his play won awards but wasn't getting produced,
and a team of academics seeking a keen eye and fresh insights for a Longman-published text on global theater.
Their testimonials and many others appear on the relevant pages of this site.
Because the writing process is complex and runs deep, I interview potential clients to help them define their needs and to gauge our suitability for working together. Next I read and analyze sample pages, a proposal, chapters or a full manuscript. Then comes a work plan and the logistics of editing, revising, completing, pitching and publishing, traditionally or independently. Contact me at annemariewelsh@gmail.com for more details.
A journalist, critic, and editor for three decades, I served as dance critic for the Washington Star, and dance and theater critic for the San Diego Union-Tribune. My own work has appeared in newspapers, magazines, literary journals, academic and trade books, as well as corporate publications, more than six thousand articles in all. I earned a Ph.D. in English from the University of Rochester (NY) and have taught myriad courses on writing, literature and the arts at The Smithsonian Institution, the University of California – San Diego, at San Diego State and the University of San Diego. I am also certified as an advanced Deep Yoga instructor and teach twice-weekly Yoga classes, as well as Yoga for Writers workshops and international Deep Yoga retreats.
During my journalism career, I also served as a free-lance developmental editor for books brought to market by Addison-Wesley, Longman, Harcourt and Macmillan publishers. Now, in addition to my editing practice, I write on a free-lance or retainer basis for non-profits, trade publishers, corporations and small businesses. My regular clients have included Community Health Group of San Diego County, Qualcomm, Invitrogen, Time for Kids Books, Girl Scouts of the USA and Miriello Grafico. I have authored or co-authored ten books of my own, including three on theater and six for young readers. My long-researched first work of fiction, Still Born, won the 2013 San Diego Book Award for best unpublished novel.
"This is a hallmark of great editing: When it's done right, you don't notice it."
Charles Mc Grath, editor
New York Times Book Review